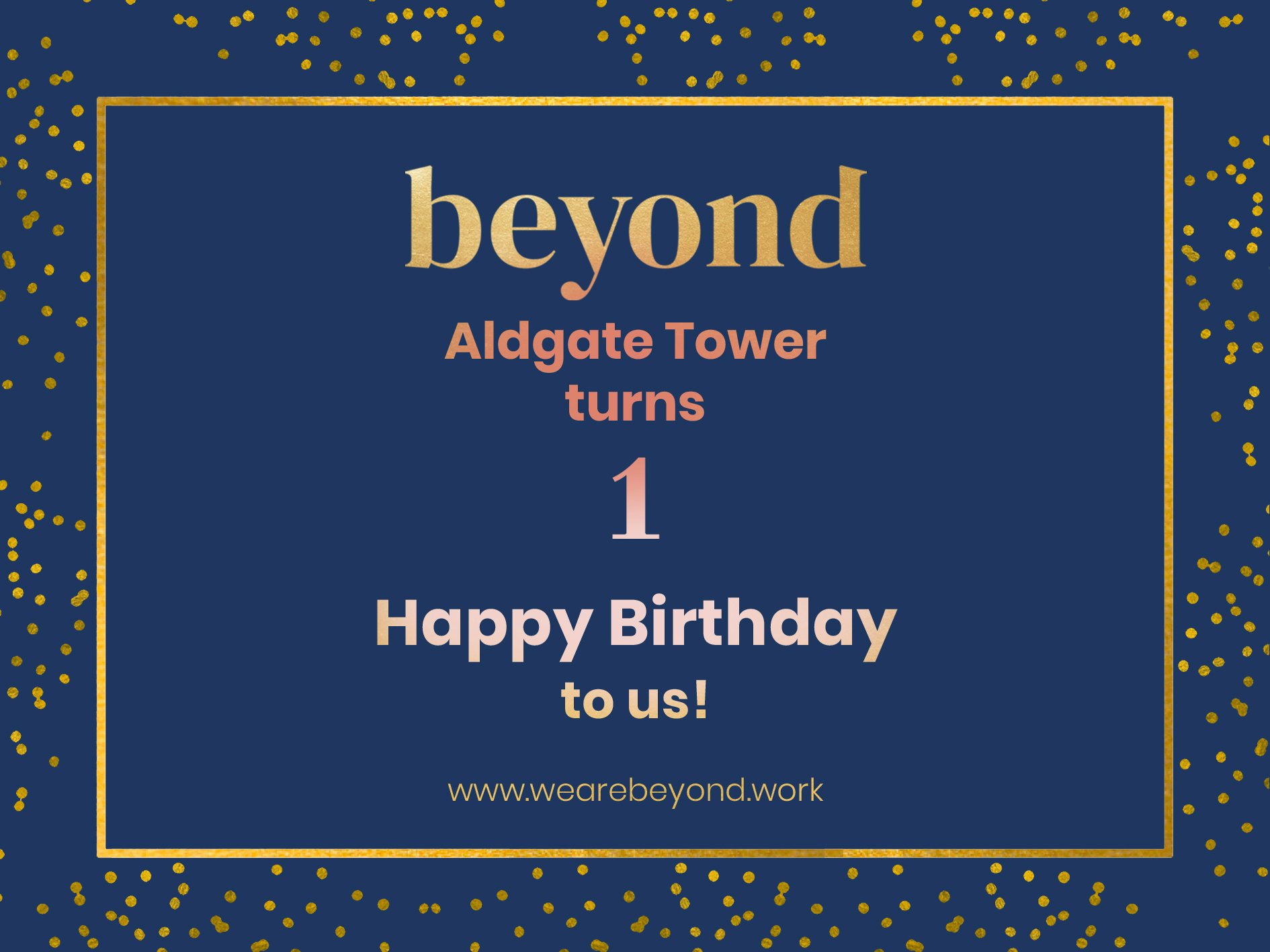 During the height of the pandemic, our founders, Wybo and Wilco Wijnbergen came up with a human-centric vision for work, one that would bring people back together and unite communities.
To achieve this they would have to push the barriers of what flexible workspaces could achieve. And so the 'beyond' concept was born to encapsulate 'going further' - being at the heart of the local community and enabling global professional connections through the latest in workspace tech.
The foundation of beyond lies in its core values: be your best self; belong; be determined and be grateful.
With these values, beyond became the 'workspace for changemakers'. beyond supplies individuals and businesses with the latest workspace technologies and amenities, empowering human creativity and innovation. It also brings together both professional and local communities through its inspired use of flexible workspace.
It has been one year to the day since the beyond concept took off, with our inaugural London-based flexible workspace, beyond Aldgate Tower, located at 2 Leman Street, first opening its doors on March 1st 2022.
While our vision was certainly ambitious, in just one year beyond Aldgate Tower has achieved more than we could have hoped for. Here are some of the bits we're most proud of…
Fostering our community of business innovators
Our community is everything at beyond Aldgate Tower: we exist to empower human endeavour and connections. We've created a social and trailblazing workspace that serves a generation of change-makers and forward-thinking innovators.
We think the world of them and it's great to know that they love calling beyond home too: in our recent member survey, 90% told us that being a member at beyond Aldgate Tower has helped them to achieve their business goals! Indeed, beyond Aldgate Tower has not only helped colleagues bond but also developed fantastic relationships between different companies, with many organisations arranging games nights and entering new partnerships with their fellow members.
What's more, our community has already accomplished a great deal during their time at beyond so far! For instance, a charity raffle organised in conjunction with one of our members, Caxton, raised over £450 for Cancer Research UK!
Naturally, our state-of-the-art workspace app has been key to this. The app has several practical features, such as enabling users to instantly book meeting rooms and coworking spaces, significantly enhancing tenant experience. Though, more importantly, it is the backbone of our professional community of changemakers, connecting not just our members but the entire building, as well as those at other sites through its messaging platform and network. Indeed, at beyond Aldgate Tower we have over 800 occupied desks but 2500 people registered to the app!
Supporting the wider community
Naturally, community doesn't end with our members – we've made sure that every beyond workspace serves its local community as well.
As our day-to-day ambassadors, our community team has also been a huge part of integrating beyond Aldgate Tower, its members and the local community. They're responsible for running day-to-day operations with the highest quality customer service – our members certainly agree too, rating the community team's friendliness a fantastic 8 out of 10 in a recent survey!
Supporting the wider SME community has been one of our top priorities, which we have done through several initiatives since launching. As beyond Aldgate Tower opened, we launched a competition for SMEs to win free office space to drive budding entrepreneurship. Later on, as rising inflation increasingly threatened the survivability of UK startups, we cut prices on our smallest offices to support SMEs at this challenging moment for young businesses. And during Black History Month, we also hosted a market showcasing the incredible products of local Black vendors.
Looking to the future
Over the past year, we've made a name for ourselves as the 'workspace for changemakers'. We've created a truly extraordinary workspace, designed to foster human connections, fitted with world-class tech, and home to a thriving member community.
But our mission doesn't stop here. At beyond, we are inherently focused on the future. That's why we're always staying ahead of the curve, kitting out our flexible workspaces with amenities on the cutting edge of innovation, perfectly aligning with the evolving values and aspirations of the modern workforce.
And as always, beyond will strive to go further – being at the heart of the local community and enabling global professional connections through the latest in workspace tech.
This past year at beyond Aldgate Tower has been an incredible start to a journey that we hope to continue for much longer. To our fantastic member community, thank you for your support. We are so excited to see where the future takes us together!