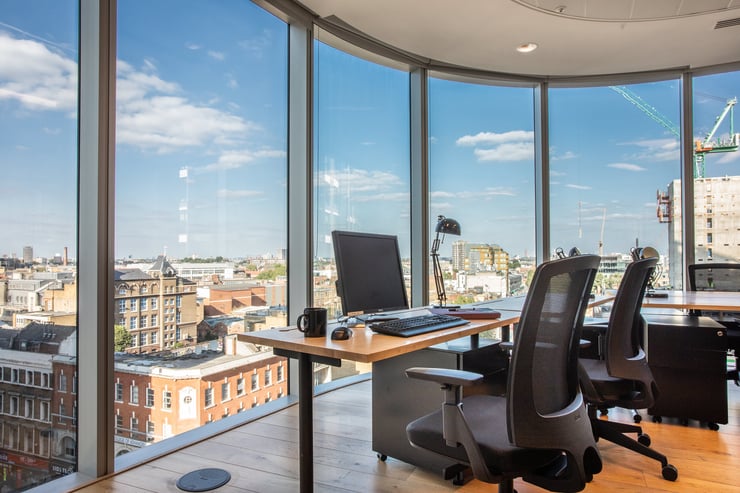 At beyond, we know that no two businesses are alike. Each one has different, and ever-changing needs.
Sadly, many offices can be rigid, inflexible, and complicated to scale within. How often do we hear about a business "outgrowing" its office? This might mean they need more space, or it could imply that their current workspace simply does not have the right offering for their evolving demands.
Of course, since the onset of the pandemic some businesses have opted to go fully remote. They will now be considering what their future "office" will look like, if they get one at all.
For all the benefits of remote working, it is hard to argue with the fact that businesses and employees lose many of the intangibles that make a team click – the valuable face-time, ability to constantly and fluidly share ideas, and networking are all limited when everyone is distanced.
Flexible workspaces, such as our co-working space beyond Aldgate Tower, near Shoreditch London, and in the heart of Aldgate East, provide a practical and effective middle ground between these concerns. Our private office spaces vary in size, meaning we can scale up our offering as your business grows.
This will reduce the friction often found as companies scale; no need to continuously scout out and sign on for new offices in London as your needs evolve, and no upheaval as your team adjusts to a new commute and settles into the space – simply consult with our community team about finding a better space at beyond to support your needs.
Another issue that the rigidity of traditional office spaces present to its occupants is that they are too uniform. Many buildings will be fitted, floor-to-floor, with office spaces containing similar capacities. This means each of the business occupants will be businesses of comparable sizes, and at parallel stages in their journey. For obvious reasons, this can stifle the potential for networking – the value of sharing information and forging relationships between building occupants is limited, as many will share the same set of experiences and perspectives.
On the other hand, buildings which house a strong blend of business sizes by design can offer a more diverse community experience.
For instance, we have 15 one-person and 52 two-person offices in beyond Aldgate Tower. But we also have multiple offices for 20-people, as well as offices for 69 or 110 people, and much more in between.
But our private office spaces are just one part of the jigsaw. Indeed, we offer hotdesking memberships for those who want a spot within a buzzing London flexible workspace.
Naturally, all our spaces and hot-desking memberships come with a suite of fantastic, first-class amenities, from our community areas with baristas in-house, comfortable and flexible breakout spaces, meeting rooms, support teams, and networking opportunities, as well as our own app.
We pride ourselves on our energetic and diverse professional community. Our premium services create an ideal home for businesses at any stage of their journey, from start-up and scale-up to established SME or large company. If our London workspace sounds like the perfect fit for your business, we encourage you to start a conversation and find out more about how beyond can support your growing business' needs.